Come up with a brilliant idea in the poker world, and you're going to make money with it. Poker players are always looking out for the next big game or the next big trend. Of course, when an idea doesn't work, it will crash and burn.
Today we take a look at three poker trends that never caught on. Each were brilliant ideas but just proved unworkable – at least not yet. As you will see, one of these ideas is about to be tried again shortly in a way that may make the third time a charm.
Professional Poker Leagues
One trend that has surprisingly never gotten off the ground is professional poker leagues. The first two attempts never made it past the first season of play. Back in 2004, the Professional Poker Tour spun off of the World Poker Tour and was billed as the first pro poker league.
The first season featured five invitation-only events with top prizes of $225,000. Pros selected had to have proven themselves on the WPT, WSOP or general poker circuit. Despite each episode featuring a murderer's row of pros at every table and every televised final headlined by multiple popular fan favorites, the PPT was cancelled after the first year. The events were then absorbed into the WPT schedule.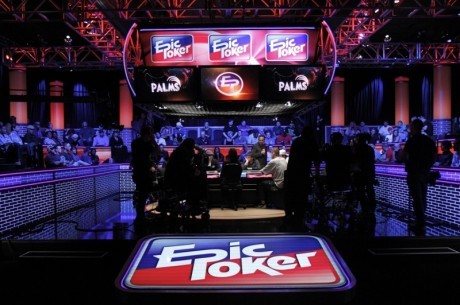 The Epic Poker League didn't even make it through its first season. Formed in 2011, the league attempted to become the PGA of poker. Every player had to meet a set of pre-established criteria to earn their league card and each player was to adhere to a code of conduct.
Each EPL event was to have a $400,000 overlay and there was to be a $1 million freeroll championship at the end of the year. Unfortunately, Black Friday hit just prior to the start of the league and it reportedly was counting on online poker revenue to help make the league viable.
In the end, the EPL went bankrupt before finishing out their first season. Only three events were held and the assets of the company liquidated. Annie Duke served as league commissioner and the fallout over the league's failure effectively ended her poker career.
Will the third time be the charm? We will find out soon as Alex Dreyfus and the Global Poker Index is about to launch the Global Poker League in April. This is his attempt to "sportify" the game of poker using an approach similar to professional sports leagues.
Related Articles
♠ INTERVIEW: Alex Dreyfus at PCA 2016
♠ Is 2016 The Year of Alex Dreyfus and Sportifying Poker?
♠ Announcing Your 12 Global Poker League Franchise Teams
If Dreyfus can find a way to properly monetize the league, he could break the losing streak of pro poker leagues. Regardless, it appears that the league will set the mark for longevity as each franchise manager for the GPL is signed to a two-year deal, implying that there will be at least two years of the league.
Bubble Insurance
It's happened to all of us. You're near the bubble of a poker tournament with an average or below average stack. You look down to pocket aces and a larger stack shoves ahead of you.
Do you fold aces in the hopes of cashing or do you call and make a run for the win? Most of us are going to call in this spot. Your opponent shows pocket tens and you're in great shape. That is until a ten hits the flop. Suddenly, you're two outs away from being a bubble boy. The turn and river blank and you're out of the tournament short of the money.
Back in 2011, multiple companies came out with the concept of Bubble Insurance. If your event was insured by one of these companies, you would receive your buy-in back if you were within 20 spots of the bubble when you were eliminated.
Bubble Protection and Beat the Bubble were two companies that offered this protection. In the weeks following their launch, the buzz was high for this concept. Regular tournament grinders could enjoy a bit less variance and recoup a few lost buy-ins.
However, both companies seemed to fade from public attention without much fanfare. Beatthebubble.com now has a generic post about online gambling on it and it appears that BubbleProtection.com hasn't been updated since 2014.
A similar company, InsuredPlay, launched in April 2012 and offered insurance against bad beats for online poker tournaments and cash games. The company was in business just over a year before announcing they were closing in August 2013.
Lack of profitability is the main issue rumored to be behind the closing of InsuredPlay and the disappearance of bubble protection sites. Too many claims versus too few premiums collected. Variance is a bitch and you can't insure against it.
Double Bubble Tournaments
A trend that PokerStars attempted to start in live poker in 2015 was Double Bubble tournaments. The way the events were to work is that once half of the field is eliminated, half of the prize pool is awarded to the remaining players.
Afterwards, the other half of the prize pool is paid out to the top 8 percent of the field. This format was praised as innovative by some and criticized by others claiming that it was merely a gimmick to cater to the fish.
The 2015 PCA featured two Double Bubble events at $2,220 and a $1,100 buy-ins. In the end, poker players spoke loudly with their wallets. The majority chose to keep them shut.
The $2,200 event drew only 49 total players. 25 players were paid with 22 of them only receiving back their initial buy-in. Only the top three earned more than their buy-ins.
The $1,100 did worse. Only 32 players showed up to play in that event. While sixteen players were "paid," only the first received more than their buy-in. A "Winner Takes All" event may have drawn more players.
Due to the epic fail of this event, PokerStars chose not to bring it back in 2016.
The World Series of Poker tried offering a similar event this past summer in their $1,500 Draft Kings 50/50. This event didn't feature the screwy double bubble format but it did pay 50% of the field.
A field of 1,123 players entered with 562 player "cashing." However, 282nd through 562nd only received $1,000 – a loss of $500. Those finishing 118th through 281st only had their buy-ins returned. You had to finish 63rd or higher to double your money.
It is hard to imagine this event returning in 2016.