Poker players want action. When they log on to an Internet poker site, they want to be able to find the perfect stakes and game varieties, as well as a selection of tables at which to sit. They want tournaments with numerous satellites, big fields, and substantial guarantees.
It wasn't too much to ask prior to the crackdown of online poker in the United States and the segregation of markets like France, Spain, and Italy. Players became accustomed to global liquidity, and when governments began to regulate the world's largest online poker sites, many players refused to acknowledge the change and adjust.
Black Friday hit American players particularly hard, as the only sites remaining after April 15, 2011 were run by offshore companies small enough to skirt the laws but big enough to offer some solace to players who needed a fix. Poker fans who couldn't uproot their lives and move to Canada or Mexico were left with two options: quit playing for real money or sign up to play on unregulated offshore websites. Many of them did the latter.
For whatever unknown reason that governments aren't prosecuting the owners of the unregulated companies, they continue to garner new players. That, in turn, offers liquidity and big enough player pools to offer bigger tournaments and guarantees, which brings even more players to the tables. Until the sites are shut down, they will continue to flourish.
And players continue to deposit money there despite warnings and dangers.
Play at Your Own Peril
Not many players will forget what happened to online poker players who had money on Full Tilt, UltimateBet, and Absolute Poker on Black Friday. Money on UB and AP is gone forever, and it took players several years to get money back from FTP, while some have yet to settle their claims.
 If those illustrations aren't enough, there are reports on poker forums and affiliate sites that warn of other networks that are taking inordinate amounts of time to process cashouts. Revolution Poker Network is one that looks as if it may never return money to customers. Full Flush Poker on the Equity Poker Network seems to be taking upwards of three months – sometimes as long as six months – for their withdrawals via online payment processors, bank wires, and checks. Merge Gaming takes at least six weeks at this point.
Other offshore sites continue to pay players in a timely manner, but there is no way to know if or when an entity like the United States Department of Justice will seize those companies' bank accounts. The companies could also simply stop working while the executives abscond with the money they possess. The lack of regulation means those situations are not outside the realm of possibility.
Alternatives
For many online poker players, the only alternative is to move to a state or country that does offer legal Internet poker. This can be expensive, but there are groups that will help players weigh their options and assist with the physical move.
In the United States, players can compete legally from Nevada, Delaware, and New Jersey. Pennsylvania may join the group soon, and California is predicted to legalize online poker there in the next year or so. The liquidity on those sites is typically not enough to garner a living wage, however. Player pools are still quite small, relatively speaking.
Poker fans often snicker at the idea of contacting legislators to push for law changes, but the Poker Players Alliance and others have been successful in several states thus far. Grassroots support for such laws can make a difference. This goes for players in countries in Europe as well, as players can reach out to their elected officials to push the idea of liquidity agreements that will open player pools to include many more players.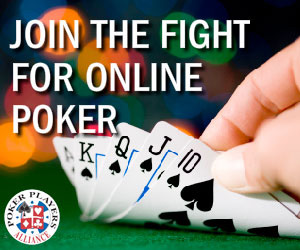 The other alternative is to find another game or career path. Some poker players have transitioned to careers in daily fantasy sports and games like Hearthstone, while others have simply moved on to obtain college degrees or put previously-obtained degrees to good use. Players have turned their poker skills into entrepreneurships and started businesses that allow the freedom that poker provided.
It is tough to let go of poker. And that separation from the game may be only temporary. But a breakup is smarter than putting time, effort, and money into online poker sites that may leave you with nothing in the end.