If you look at the mantle of any poker champion, you'll probably see various trophies from events they've won throughout their career. Poker trophies tend to be generic and really are no more than a loose symbol for a long forgotten tournament played long ago.
Then there are those few rare trophies that step it up a notch. They are more than just a memento of a past victory but they are also a status symbol. These trophies are ones that you would be proud to have on your poker mantel. Below are seven of the most epic poker trophies in poker, including one from poker's recent past that's no longer available.
Chip Reese Trophy
The winner of the $50,000 Poker Player's Championship receives the Chip Reese Memorial Trophy honoring the first winner of the $50k H.O.R.S.E. Event in 2006. The massive trophy has the name of every winner of the event from 2006 to present and is topped by a representation of the Reese's winning hand from 2006.
While the winner of $50k PPC also gets a bracelet, most will agree that the trophy is epic and definitely a statement piece.
WSOP Main Event Bracelet (Modern Day)
Back in the day, the winner of the World Series of Poker Main Event received a bracelet similar to all the others won that year. Maybe it would have a few extra diamonds or an extra inscription but otherwise, it was pretty much the same.
Over the last few years, the WSOP Main Event bracelet is anything but ordinary. The 2016 Main Event bracelet was designed by Jostens and has 25.5 carats of white diamonds, 14.8 carats of black diamonds, 3.8 carats of rubies and 427 grams of gold. It has a general value of approximately $500,000.
2015 Main Event Champion Joe McKeehen likened the bracelet to a belt buckle and with that much bling, we can see why.
L.A. Poker Classic
One off the coolest trophies in poker is the winner's trophy for any event of the L.A. Poker Classic. The bucking bronco trophy is one of the more unique poker trophies in the game and iconic for the LAPC.
It doesn't matter whether you win a $300 Stud Event or the WPT LAPC Main Event; you get one of these epic trophies. All poker trophies should be this cool.
Championship Belt (WPT, TonyBet)
World Champions in boxing and in pro wrestling have awesome looking championship belts. Poker hopped on board this bandwagon with several organizations giving out their own championship belt.
The World Poker Tour is perhaps the most famous poker tour presently giving out belts to their champions. In addition to getting one's name inscribed on the champion's trophy, they get their own WPT title belt.
Mike Sexton got his own championship belt after winning the WPT Montreal and gave it to his son Ty.
The best thing about winning WPTMontreal is that my son Ty gets the championship belt! #soblessed pic.twitter.com/Wzwwb6sjvd

— Mike Sexton (@Mike_partypoker) December 6, 2016
TonyBet has one of the best-looking championship belts, given to the winner of their live OFC events.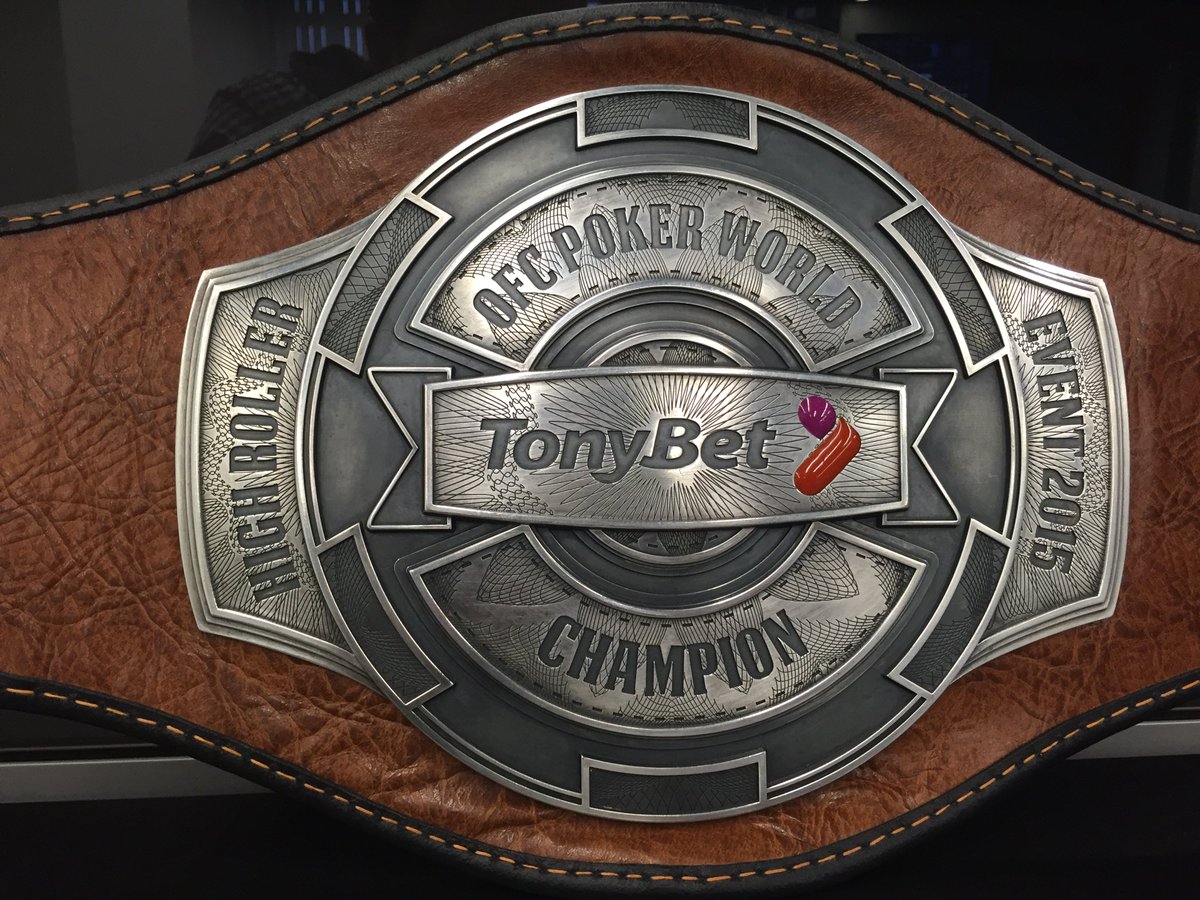 Battle of Malta Trophy
Poker is often compared to war as players regularly battle at the tables for supremacy. The PokerListings Battle of Malta highlights this fact with an epic trophy to its winners. Although different each year, it usually features some type of medieval knight that looks ready to do battle at a moment's notice. .
This is definitely a trophy you want to display at home for when your buddies come over for poker night.
The Golden Eagle
The winner of the WSOP Seniors Event wins the coveted Golden Eagle trophy. A stunning eagle with wings spread is an added incentive for anyone going after the Seniors World Championship bracelet.
Truth be told, I'd almost rather have the Golden Eagle trophy instead of the bracelet. It looks much more epic.
FTOPS Jersey
Back during its heyday, the Full Tilt Online Poker Series (FTOPS) was rivaled only by the PokerStars WCOOP. The winner of each event not only received the prize pool but an authentic FTOPS jersey.
This wasn't just an online icon to display as an avatar. The winner received a physical jersey for winning the event. If you had one of these, you were a online poker champion and this was effectively a wearable trophy.