Are you a New Jersey online poker player who dreams of playing high stakes cash games on TV with the pros? Are you also tired of the ice, snow and frigid winter weather that is customary in the Garden State this time of year? Do you find yourself dreaming of getting away to a warmer climate for a few days to play some live poker?
If you answered "yes" to those questions, 888poker NJ has exactly what you're looking for. The site is hosting a "Poker Night in America Cash Game Qualifier" on January 23 that will send at least two players from New Jersey to Thunder Valley Casino in Lincoln, California to play in the $5,000 buy-in high stakes cash game.
Only $150 Entry Fee
The buy-in for the qualifier on the 23rd is a mere $150. But there are a bunch of ways to take a seat at the table for free! There are Daily Poker Night in America Freerolls hosted by 888poker NJ at 3:05, 6:05 and 9:05 p.m. Those freerolls allow re-buys and add-ons.
The freerolls send winners to the Daily Poker Night in America Satellite at 7:05. Players who wish to bypass the freerolls can enter the satellite directly for only $30. Winners of the satellite will gain entry to the Poker Night in America Qualifier on January 23 at 8:05 p.m.
Of course, players who want to avoid the freerolls and satellite can pay the $150 entry fee and be seated at the NLHE Freezeout qualifier. At least two winners of the Poker Night in America Cash Game Qualifier will receive $6,000 prize packages, $5K of which will be used at the table, while the other $1K is for travel and lodging expenses for a three-night stay.
California Dreaming
The $5K high stakes action in California takes place from January 29-31. That's the dead of winter in New Jersey. Doesn't a three-day poker vacation sound good right about now? The New Jersey winners will be rubbing elbows with the likes of Phil Hellmuth and Maria Ho, both of whom are expected to be in attendance.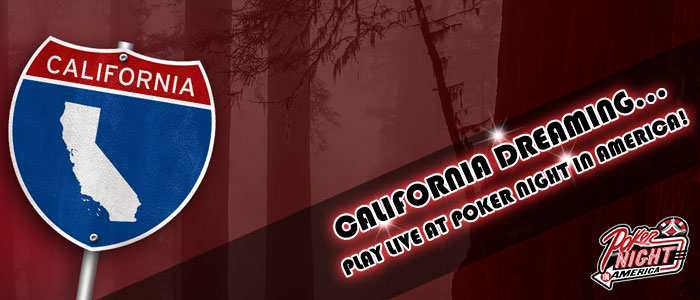 Want to know some other ways to gain entry to the qualifier? Of course you do! A deposit of at least $450 at 888poker NJ will do the trick. You will be awarded a free ticket to the Jan. 23 event for doing so. Just be sure to use the promotion code "PLAYCA" when you make that deposit.
For players who would rather deposit less, how about a $150 deposit for a free ticket to the $30 Daily Poker Night in America Satellite. The promo code for that option is "PNIA30."
Isn't it worth a shot to try to win your way to play in an exciting Poker Night in America cash game? Are you California dreaming?