When we left 2015 in the dust, there was hope for multiple states to pass online poker legislation. Pennsylvania was oh-so close, the Poker Players Alliance sounded positive about California, and even Massachusetts was considering a new bill.
Now that the first month of 2016 is in the books, there is general mix of hope and disappointment. Online poker players and fans watch as state after state expedites bills to legalize daily fantasy sports, while online poker gets shoved to the side. On the other hand, states like New York and Washington jumped into the mix with online poker bills.
There may not be anything amazing to report, but we can offer updates on all of the states that are – at the very least – discussing online poker.
Pennsylvania
State Representative John Payne is still fighting for HB 649. What started as a bill to legalize and regulate online poker is now a broader effort to expand the entire casino industry in Pennsylvania, but there seems to be a reasonable amount of support for it.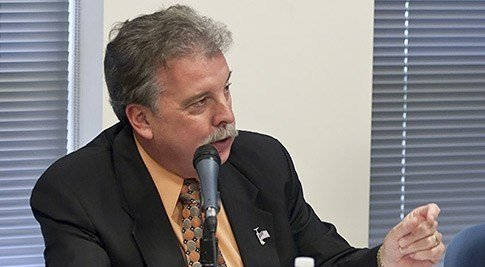 Payne actually went on record in mid-January to tell Trib Live that he expects his bill to pass by the middle of the 2016 summer. "We need revenue. They're not going to find votes for (higher) taxes in an election year. So I would think gaming will be a component."
However, Payne also announced in January that he will be retiring from the legislature. He has held the seat since 2002 but decided not to seek an eighth term. As the primary proponent of online poker and the chairman of the House Gaming Oversight Committee for the 2015-2016 legislative session, many put their faith in Payne to push this bill before his term ends. He is also dedicated to passing several bills. As he stated to the local FOX affiliate, "There are still many initiatives I hope to see enacted, and I plan to stay active and continue to serve the citizens of the 106th District until my term ends on November 30."
As it stands, his bill remains on the House floor. The 18-8 vote in his committee last year pushed it forward, and Payne is still pushing for the bill to find its way into the still-unpassed budget proposal or pass as a stand-alone bill.
Chances remain good, and this will be a state to watch closely in February.
California
As the Rich Muny of the PPA predicted, California was on the map as soon as the year began. By January 4, the State Assembly Committee on Governmental Organization let it be known that a hearing was set to discuss online poker on January 6. Assemblyman Reginald Jones-Sawyer's AB 167 to license and regulate Internet poker was on the agenda, one that was marked as urgent.
However, by the time the hearing day came, online poker was pulled from the agenda in order to give ample time to discuss daily fantasy sports (DFS). It was not only a disappointment to the poker community at large, but the California Nations Indian Gaming Association (CNIGA) was angry. The group issued a press release denouncing the omission of online poker from the hearing.
Even more, Poker Update talked to CNIGA Chairman Steve Stallings, who insisted that Committee Chairman Rep. Adam Gray was prepared to call a new hearing, one that would focus specifically on Internet poker, before the end of January. CNIGA and its coalition of 32 tribes was prepared to help discussions move forward on the issue, offer a proposal to the horse racing interests that were standing in the way, and bring everyone to a compromise to end the delays regarding the bill.
No hearing was set for online poker, while new DFS bill AB 1437 – the Internet Fantasy Sports Games Protection Act – passed the Assembly with an astounding 62-1 vote. This prompted the PPA to issue a press release noting the disparity on the issue. While the legislature was quick to act on consumer protections for DFS players, online poker players were still left behind.
PPA Executive Director John Pappas noted, "The swift passage of a DFS regulatory bill shows that California lawmakers do, in fact, care about protecting consumers who play games online. Therefore, we urge the legislature to immediately move legislation that also protects Californians who want to play poker online through appropriate authorization and regulation. If legislating consumer protections for DFS players is a priority for the legislature, the same should be true for Internet poker players."
PPA urging immediate consideration of Internet #poker bill in wake of CA Assembly passing #DFS bill https://t.co/bmN8RzQ66X

— PokerPlayersAlliance (@ppapoker) January 27, 2016
Amaya, parent company of PokerStars and Full Tilt, also issued a statement supporting the DFS bill and an online poker bill that are strongly correlated.
Full statement from Amaya on DFS bill moving forward in CA (last tweet missed 2nd half, which links issue to poker) pic.twitter.com/hBbl27zk1J

— Chris Grove (@OPReport) January 27, 2016
Keep all eyes on California, as the pressure is mounting for online poker to go for votes, complete with many willing to compromise in order to make it happen.
New York
In the past, online poker was brought to the attention of New York legislators, thanks to State Senator John Bonacic, who also chairs the Senate Racing, Gaming and Wagering Committee. In addition, Assemblyman J. Gary Pretlow (chair of the Assembly committee of the same name), has also been a supporter of online poker legislation.
The two men came together again to introduce bills in the third week of January to make another push. Pretlow's A9049 and Bonacic's S5302 were brought up for the third year. While New York has still to see non-Indian casinos built in the state, some legislators feel that online poker should be a part of any gambling discussion for New York.
New York Senate committee will vote on #iPoker bill on 02/02. If you live in NY look for "take action" email from PPA.-jp

— PokerPlayersAlliance (@ppapoker) January 29, 2016
As DFS is also currently under consideration for the state legislature, there is the dire hope that online poker is not overlooked as happened in California.
Stay tuned for more developments from New York in the first couple days of February.
Washington
Online poker has been pushed in the state of Washington for several years, considering the activity has been considered a felony since a 2006 law passed to that effect. The 2016 year started with yet another effort there, as HB 1114 was reintroduced as previously written for the House to consider.
Some say there are no plans for a hearing at this time, but that is not for a lack of trying by supporters in Washington.
Give us a Senate companion for #HB1114 and a hearing to make our case @VoteBaumgartner

— WA iPoker Initiative (@ipokerwa) January 11, 2016
Should the bill remain stagnant as in years past, the attempt to license and regulate online poker will die again at the end of the legislative session. As this state – like California and New York and many others – also prepares to look at a DFS bill, keep eyes on whether online poker voices can be heard as well.
Illinois
The reason that Illinois was in the news in January was not because of an online poker bill, but due to an important court case that was resolved in the US Court of Appeals for the Seventh Circuit.
The case was Kelly Sonnenberg, e. al., v. Amaya Group Holdings, a class action lawsuit that originated in Illinois when Kelly and Casey Sonnenberg sought damages from PokerStars (and Daniel and Judy Fahrner sought the same from Full Tilt) because of losses on those online poker sites. The suit was based on a statute that imposes criminal penalties on anyone who "knowingly establishes, maintains, or operates an Internet site that permits a person to play a game of chance or skill for money or other thing of value by means of the Internet or to make a wager upon the result of any [such] game." And the statute punishes anyone who runs said company and provides that people may sue for any sum of money amount to $50 or more.
However, the Court of Appeals upheld the lower courts' decision to dismiss the case, this time on the premise that online poker companies do not "win" against the players since the players do not compete against the house. The companies merely provide a forum on which the games may be played but do not have a vested interest in the outcome of any particular game or player.
Amaya claimed victory in this case, which the company acquired when it purchased PokerStars.