Are you down with REG? More poker players are pledging to participate in REG every day, and it is quickly becoming one of the preferred ways for them to donate to charitable organizations around the world.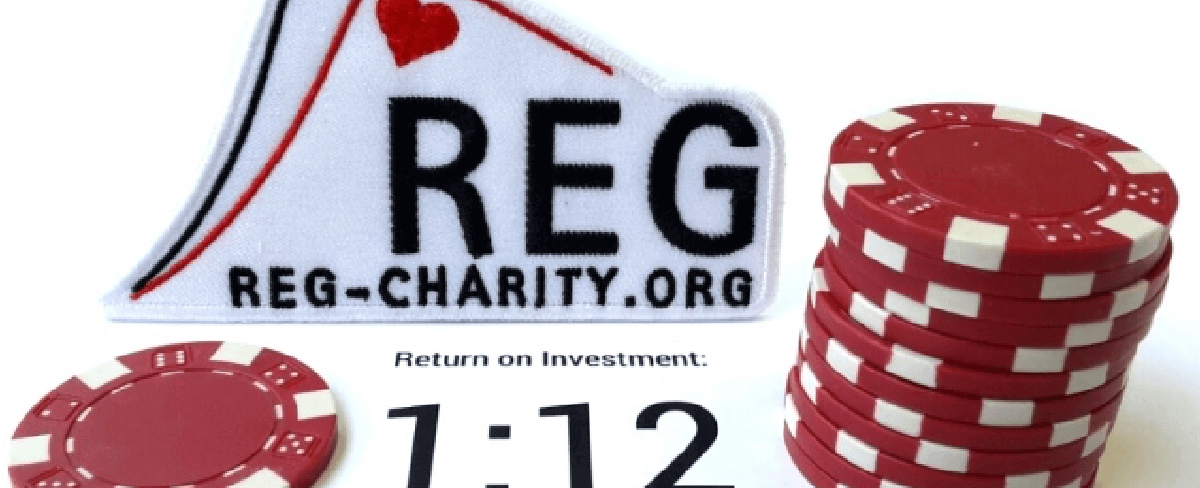 REG stands for Raising for Effective Giving and was founded in 2014. It started with three high-stakes and well-known poker players wanting to streamline the way that they could donate to various charities and spread the word throughout the poker community.
Only Two Years Ago…
Liv Boeree, Igor Kurganov, and Philipp Gruissem approached Adriano Mannino (now REG Chairman) and the team at the Foundation for Effective Altruism, which is now the parent company overseeing REG. A mutual friend, Stefan Huber, made the introduction.
As Managing Director Ruairi Donnelly recalled, "Liv, Phil, and Igor were very enthusiastic about the idea of effective giving, and after discussing how it might be possible to spread the idea throughout the poker world, REG was founded." The group was quickly organized and launched at the 2014 World Series of Poker via an open presentation to the poker public.
Since then, REG has continued to grow by leaps and bounds in a relatively short period of time. The organization raised more than a half million dollars in 2015, putting REG over the $1 million mark since its founding the year before.
I'm proud to announce I'm pledging to donate 2% of my Main Event winnings with REG Charity and will be wearing their patch at the FT 😃

— Max Steinberg (@MaxJSteinberg) November 7, 2015
One of the highest profile fundraising events of late was the December 30 boxing match between Sorrel Mizzi and Brian Rast. The two trained and gathered at a Las Vegas gym in front of a live audience to raise money for REG, and more than $8,000 was garnered from that single night. It also served to raise more awareness of the group.
Isn't All Giving Effective?
Sure. Charitable organizations around the world collect funds for any number of people and causes in need, but many of those groups use a good percentage of those funds for executive costs instead of giving them to those in need. This is one of the reasons there is such a need for effective altruism and helped create the foundation for REG.
Groups like REG use scientific facts and rational decision-making to find the charities and solutions that are most effective in reducing suffering in the world. Through collaborations with researchers, think tanks, and analysts, REG is able to find the most effective charitable opportunities. By doing so, donations become more cost effective by increasing the number of people helped per unit of money donated.
The other important aspect of REG is the desire for commitment. As the website notes, "REG motivates people to donate unusually high amounts in relative (percentage of income) and/or absolute terms." While the organizers emphasize that over-commitment is not the smartest tactic, long-term motivation often results from a commitment to charitable giving. The larger goal is to help establish a "culture of giving" in the poker community and beyond.
Something from Everyone
At first glance, REG may seem like an organization geared toward high rollers. Boeree, Gruissem, and Kurganov, as well as Mizzi and Rast, are all poker players who appear to have substantial bankrolls and can afford to donate a percentage of their poker income on a regular basis.
Donnelly admitted that high rollers are the primary source of donations but added an important caveat: "I really hope that other players don't feel discouraged because of this! If we choose charities which are outstandingly effective, it's extraordinary how much good we can do with our donations. Most people living in the developed world literally have the power to save lives with their donations."
He went on to explain, "Independent charity evaluator GiveWell has shown that a donation of $3,400 will save one life, if donated to a highly effective charity. Animal Charity Evaluators, which evaluates which groups help to prevent the most suffering, estimates that a $1,000 donation to one of their top recommendations will save 14,000 animals from a life of terrible suffering."
REG is also working on various partnerships to spread the word further. In addition to using social media and word of mouth, as well as the REG patch worn by supporters at poker tournaments, organizers partnered with King's Casino in the Czech Republic to install a donation box where poker players and other gamblers can make donations. Other casinos have expressed an interest in hosting tournaments to benefit REG, and those events are in the works at various locations throughout the world.
The quick-growing popularity of REG is also spurring work in other industries as well, such as DFS (daily fantasy sports) and the finance world. REG organizers are always open to ideas that will expand effective giving to other groups and areas of business that will expand the giving solution beyond the poker community.
As for poker players, there are easy ways to explore REG and join the movement.
Not only is REG available for workshops and information offering sessions, the board members and executives can be reached via the REG website with any questions for players interested in any level of giving. Managing Director Donnelly and Chairman Mannino are especially keen for email contact to launch discussions about new projects and potential collaborations.
There is a form at the bottom of REG's home page that enables a very quick sign-up to become a member and begin donating. A person can give to REG for distribution of funds or select one of the effective charities listed on the website.